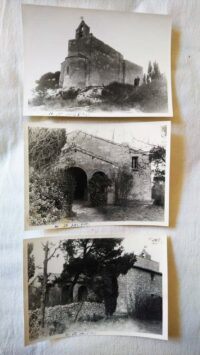 The hermitage of San Giacomo, on the hill overlooking Cavaillon, where César De Bus, founder of the Doctrinarian Fathers, retired after his priestly ordination in 1582 to deepen his study of the "catechism for parish priests," is undergoing restoration. The roof, the portico with the cobblestones and the garden will be restored also thanks to private donations. The intervention started at the beginning of January.
Jean-Luc Parpaleix, in "La Provence" de Cavaillon wrote: «The building site cannot be compared to the one currently underway at the cathedral of San Verano. If the size and expense are of another order, the symbolism is of equal importance. Certainly, the chapel of St. James, a building classified as a historic monument, deserved restoration. The future canonization, of Blessed César De Bus, scheduled for 2021, by Pope Francis, certainly accelerated the timeline ».
The cost of the work for the roof and the porch is about 90 thousand euros, largely subsidized of the State through the Regional Directorate of Cultural Affairs, the Southern Region and the Departmental Council. About 21 thousand euros will be borne by the municipality.
The other batch of works concerns the garden of the chapel. La Provence writes: « A pedestrian walkway, an LED lighting installation, benches and other planting will be realized. The idea is to offer a place of serenity, naturally inserted in the magnificent panorama. A little corner of paradise! »
This project will be completely borne by a few companies that will ensure the work free of charge and who have signed an ethical charter that states in Article 6: «the city prohibits the receipt of funds or endowments of any kind from French or foreign organizations, political, trade union, religious and any funds or donations from accounts established in tax heavens».