The Doctrinarian Family Movement
The Doctrinairian Family Movement was born after a long journey of discernment and prayer that involved families and young people from the Doctrinarian realities. After several meetings held in Varallo Sesia, San Severino Marche and Rome, the participants understand more and more that the Lord is calling them to live their family and work reality according to the charism of Father César. Thus was born the Doctrinarian Family Movement, which was approved by the Congregation in 2014. The Statute gives its identity. Here, in summary, are some basic points.
The Doctrinarian Family Movement is made up of families who share Father César spirituality, summarized in his phrase: "Everything in us catechizes, let our way of life be so conformed to the truths taught as to be a living catechism." In light of this, Doctrinarian families desire to acquire a lifestyle that conveys to others the Good News of God's merciful love for every creature. (Statute No. 1).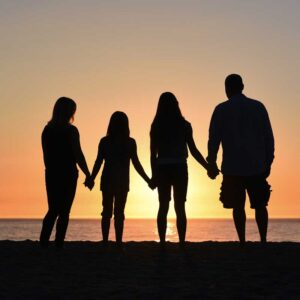 Following the example of Father César , they commit themselves to living in their daily lives the centrality of the Word of God, recognized as nourishment for Christian life and especially for family life. In particular, they dedicate themselves to listening to the Word of God that the Church proposes in the daily Liturgy, both personally and as a family, recalling what Father César meant by "listening to the Word": understanding it, loving it, believing in what it proclaims and putting it into practice. In addition, each group is invited to meditate and share the Word of Sunday, letting themselves be helped by Father César texts.
The Movement is committed to catechetical service, especially in support of families. It is also proposed, compatibly with the commitments that family life requires, the catechetical commitment in its own parish reality. In order for this service to be effective, it considers fundamental that everyone take care of their own Christian formation, especially biblical formation.
The encounter with the Eucharist, celebrated and adored, and devotion to Mary, manifested in particular through the prayer of the Rosary, are to be considered two other fundamental elements for personal and family growth. In order to progress in communion and to strengthen the identity of the Movement, the Doctrinarian Families live each year, with particular intensity, on April 15, Feast of Father César , and on September 15, Solemnity of Maria Addolorata (Mary Our Lady of Sorrows), the national meeting that aims to experience the "Family of Families", to share the experiences lived and grow in the sense of belonging to Christ, the Church and the Doctrinarian Family.